Information on WAC's programs, current officers, bylaws, and supporters.
Upcoming events featuring or of interest to WAC members.
Who is eligible, what the benefits are, and how to join.
Profiles of WAC members, including lists of works.
The on-line version of WAC's Newsletter.
Past concerts, workshops, and other events.
WAC and Wisconsin-centered composer opportunities, and pointers to more comprehensive lists.
Other Web resources of interest to composers and new-music fans.
WAC News
Stas Venglevski and Music from Almost Yesterday
UW-Milwaukee Recital Hall, Friday, September 20th, 7:30pm
Stas Venglevski premieres David Bohn's Fantasy: Gathering Threads, and is joined by guest artists Jeri-Mae Astolfi and Samantha George for works by Jerome Kitzke, Mark Mantel, Astor Piazzolla, Stas Venglevski, and Yehuda Yannay.
WAC awarded Wisconsin Arts Board Grants
WAC was awarded two Wisconsin Arts Board Creative Communities Grants for 2011 and 2012. These competitive grants were awarded to WAC to partially fund its "Wisconsin Soundscapes" project. WAC will use the funds to commission six Wisconsin composers to write original works for solo piano and to support a state wide tour of the new works by pianist Jeri-Mae G. Astolfi.
Six Wisconsin composers chosen to participate in "Wisconsin Soundscapes"
The Wisconsin Alliance for Composers is pleased to announce that the following six composers were selected to participate in "Wisconsin Soundscapes," a state-wide tour of new piano music inspired by the people and places of Wisconsin:
Geoffrey Gordon, Cedarburg, WI
Joseph Koykkar, Madison, WI
Joel Naumann, Orfordville, WI
Ryan Maguire, Oconomowoc, WI
Yehuda Yannay, Milwaukee, WI
Donald J. Young, Racine, WI
Each participant will be commissioned to compose an original work for solo piano that will be toured state-wide by pianist Jeri-Mae G. Astolfi. These compositions will be performed at community venues throughout the state on a Fall 2012 tour.
The selection committee, consisting of Jeri-Mae G. Astolfi (pianist), Jeffery Gibbens (composer and WAC board member), and Frank Barmore (community representative), reviewed over thirty submissions from across the state.
Tour Schedule
July 25 - Oshkosh Public Library Education Program
September 30 - UW Oshkosh 3:00pm
October 12 - UW Milwaukee 12:00pm
October 14 - Rahr-West Museum, Manitowoc 2:00pm
October 20 - First Unitarian Society, Madison 7:30pm
October 28 - Three Lakes Center for the Arts, Three Lakes 3:00pm
November 1 - Pump House Regional Arts Center, La Crosse 7:30pm
Additional concerts TBA
This project is supported in part by a grant from the Wisconsin Arts Board with funds from the state of Wisconsin.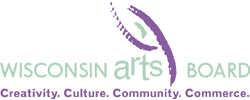 "Wisconsin Soundscapes" educational program presented to children at the Oshkosh Public Library
WAC Vice-President Ed Martin and pianist Jeri-Mae G. Astolfi presented a pair of programs for children at the Oshkosh Public Library on Wednesday, July 25th centering on the works commissioned for the "Wisconsin Soundscapes" project. The two programs (for ages 4-7 and ages 8-12 respectively) included discussion about sound and music, and activities and songs intended to spark the children's appreciation for the creation of music.
Join the WAC E-mail List
WAC has a low-traffic e-mail list for announcements of upcoming new music events, updates on WAC programs, and general discussion related to composition and new music. The list is available to all WAC members and anyone else interested in joining. To join the list, visit
http://groups.yahoo.com/group/wiscomposers/
or send an e-mail message to wiscomposers-subscribe@yahoogroups.com.